For several years now I have said – both to you, my readers, and to myself – that I would finish the many items on my UFO List! For some reason this year it seems much more pressing. I think it is this is the 5-year anniversary of the Finish-A-Long.
The problem is that there are so very many great things I want to make!! Here are a few things I have forced myself to resist:
This one is going to be gorgeous! I went as far as printing the first pattern – and then promptly threw it away on my way to my tall stack of boxes (which hold my projects that need to be completed). But seriously click here to read all about this Quilt Along by Fat Quarter Shop!
I love Christmas quilts!! Love them!! And look at Rudolph….him and his friends are adorable!! You can read all about this one here at Shabby Fabrics.
This pattern has been on my Quilt Bucket List for such a long time….but first…my UFO List must be complete (or at least 1/2 **wink**)! You can find it here on Denyse Schmidt's site.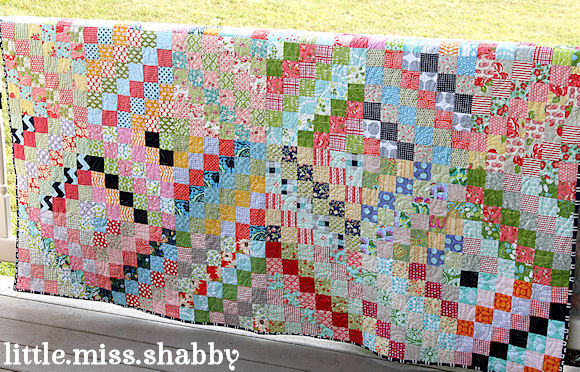 I really want to do a Scrappy Trip Around the World. The one pictured here is from Coriander Quilts. I would like to use up some 1/2 yard pieces that would be much more "glamorous" in smaller pieces.
Those are just a tasting of the things I have been able to resist…however, one did slip into the fold **EEK**
Of course it is a Christmas project and it is a BOM which is something I really enjoy!
This is run by Seams to be Sew and here is my first block prior to any embroidery or quilting – haven't quite decided how I will embellish:
So, while I haven't resisted everything! I have made progress on my current projects (a finish coming soon) and only started one new BOM…Phew! that was tough!!!!